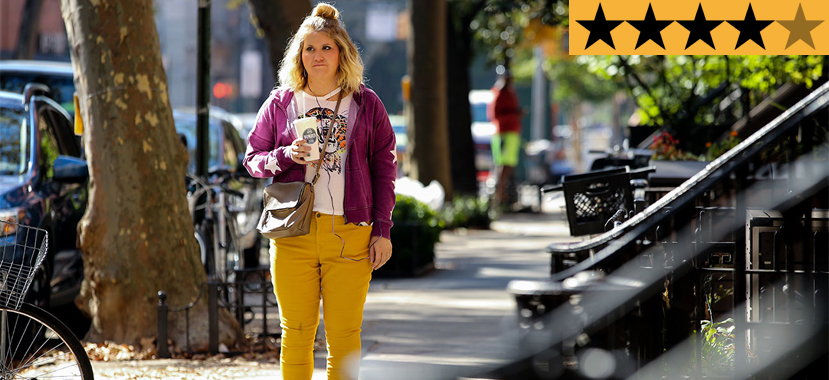 12 Jun

SYDNEY FILM FESTIVAL REVIEW – 'Brittany Runs a Marathon' is a stone-cold winner

Most of us long to finally get off our butts, lose some weight, and get healthy. But then the pizza delivery arrives and we go back to sitting on the couch, and those dreams evaporate, as you down your fourth slice while watching whatever the latest buzz-worthy show on Netflix. But what if we actually put on those barely-worn sneakers, stepped outside, and made a go at it?

Herein lies the charming narrative of Brittany Runs a Marathon; a film you'll likely assume you've seen dozens of times before but will be delightedly surprised by. With a delicious mix of heart, humour, and drama, and a sensational leading performance, the film subverts expectation to deliver a wonderfully entertaining movie that avoids the clichés that so often beset this style of cinema. And, hey, it may just provide the inspiration you need to, well, run a marathon.

Our lovable titular heroine is Brittany (a star-making turn from Jillian Bell), a self-deprecating 27-year-old New Yorker living a life filled with the pitfalls of millennial laziness. She parties at every chance she gets and binge-drinks away the minimal paycheck she receives from her job at an off-Broadway theatre. She's the "funny friend" of Gretchen (Alice Lee), a wannabe Insta-famous narcissist, who clearly only keeps Brittany around to make herself feel better. And, at 5-foot-6 and 190 pounds, she's terribly out of shape.

In an attempt to score some Adderall to help boost her focus (but more likely for recreational use), Brittany visits a local Yelp-recommended doctor, who gives her a hard dose of cold reality instead. Her blood pressure is through the roof. Her heart rate is far too high. And, according to a body mass index chart, she's medically considered obese and should contemplate losing 55 pounds. Instead of springing into action, Brittany opts to loudly sob in her apartment, catching the attention of her well-intentioned but nosy neighbour Katherine (Michaela Watkins), a lonely soon-to-be divorcée who Britney usually delights in ridiculing for heading out on a morning jog when she's stumbling home after a night out.

Katherine offers Brittany some simple life-changing advice; set yourself one small goal at a time. Inspired by her unwanted new friend's mantra, Brittany decides to take up running, with the goal of running just one block. One block soon becomes two, and, before she knows it, she's joining Katherine's running group, where she also befriends Seth (Micah Stock), a sarcastic but sweet gay father of two, and the trio soon make an agreement to train to run the gruelling 26.2 mile New York City Marathon in less than 12 months.

But Brittany's affinity for jogging soon does more than just help her shed some pounds. With her self-confidence rising, she refuses to be Gretchen's punching bag anymore and says goodbye to her party girl days. Landing a job as a dog sitter, she cares for a pooch in a plush uptown apartment, where she's introduced to goofy troublemaker Jern (a charming Utkarsh Ambudkar). While he's only intended to be the night shift sitter, Jern has taken up residence in the flat full time, and the two soon develop a love-hate brother-sister relationship that could be leading to more.

On its surface, Brittany Runs a Marathon appears like your average feel-good transformational comedy, filled with cliché moral life lessons of the power of self-acceptance and loving the skin you're in. Naturally, that's all there in writer/director Paul Downs Colaizzo's gorgeous screenplay, but never in a way that feels trite or preachy. Yes, this could be an "inspiration film," but it's ultimately not trying to be. Colaizzo's writing is deeply authentic and wisely highlights how the path to genuine life change is a slow and arduous process and there really are no quick fixes for any of us, even in the movies.

Brittany's victories are earned over time and doted with disappointing missteps along the way, typified by a low moment where she viciously insults a fellow overweight girl out of her own crippling insecurity. Colaizzo has the courage to portray his protagonist as a deeply flawed character, who is genuinely unlikeable at times and makes some truly baffling decisions, even in the midst of seemingly getting her life together. But the endearing humanity of our leading lady always shines through, and you can't help but proudly cheer for Brittany, as she battles her way towards her daring goal.

The true success of Brittany Runs a Marathon lies with the terrific performance from Bell, who absolutely shines in her first leading role that's been a long time coming. After stealing focus with hilarious supporting parts in 22 Jump Street and Rough Night, Bell carries this entire film with deft skill, announcing her arrival as a genuine star to reckoned with. Her effortless charm and charisma make Brittany the lovable character she needs to be. Right from the opening moments, Bell grabs your focus, and never once lets it go.

Bell's impeccable comedic timing takes centre stage for much of the film, with a calamity of dry one-liners and self-effacing quick wit dolled out at every opportunity. But it's in the narrative's quieter and darker moments that her performance truly comes alive. Brittany is a fascinating character study, and Bell takes great care with unveiling the deep pain hiding behind the defence mechanism that is her humour. We knew she could deliver the comedy, but her dramatic work is equally as impressive, crafting a layered and fully-dimensional performance that's one of the best you'll see this year.

Colaizzo fills Brittany Runs a Marathon with a charming cast of supporting characters who each earnestly serve their purpose along Brittany's road to glory. As the desperately forlorn neighbour with a heart of gold, Watkins is a delight, providing Brittany with the love and guidance she refuses to believe she needs. Katherine runs to avoid the tragedy that is her life, providing Watkins with the chance for an equally layered turn. Ambudkar is endlessly likeable as Brittany's potential love interest, in a romance that's entirely expected yet never too sickly mawkish. And there's an engaging performance from Lil Rel Howery as Brittany's brother-in-law and surrogate dad, who lovingly guides his pseudo-daughter through a series of Skype calls.

The climatic marathon conclusion is entirely foreseen and expected (it is in the title, after all) and slightly spoiled by one too many jarringly unrealistic moments. But it's an ending that feels entirely earned and authentic, so you'll instantly forget any of these minor criticisms. It's a finale that's so gorgeously moving and uplifting, you can't help but feel a few tears forming in your eyes. After everything you've witnessed Brittany endure, you'll achingly want her to run that damn marathon and cross the finish line.

Brittany Runs a Marathon is the film last year's disastrous I Feel Pretty desperately wanted to be. Without the need for a ridiculous setup, Colaizzo offers a faithful and intimate look at what it means to take control of your life for your own personal satisfaction. Ultimately, Brittany isn't running to prove something to anyone but herself, and therein lies this film's wonderful success. Inspiring without being cheesy, funny without being corny, and so damn sincere and genuine, this is a stone-cold winner.





Distributor: Transmission Films
Cast: Jillian Bell, Utkarsh Ambudkar, Michaela Watkins, Lil Rel Howery, Micah Stock, Mickey Day, Alice Lee
Director: Paul Downs Colaizzo
Producers: Matthew Plouffe, Tobey Maguire, Margot Hand
Screenplay: Paul Downs Colaizzo
Cinematography: Seamus Tierney
Music: Duncan Thum
Production Design: Erin Magill
Editors: Casey Brooks, Peter Teschner
Running Time: 103 minutes
Release Date: TBC (Australia)