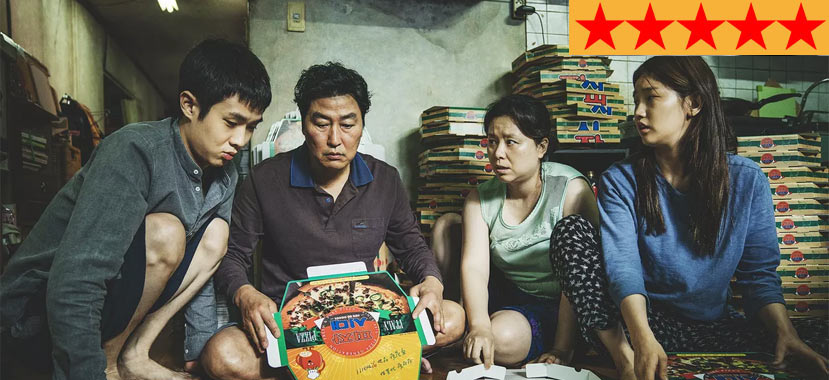 20 Jun

SYDNEY FILM FESTIVAL REVIEW – 'Parasite' is an acerbic and satirical treasure

"It's a family film." That's how genius South Korean co-writer/director Bong Joon-ho introduced Parasite, his latest acerbic and satirical treasure that genuinely brought the house down at its Australian premiere at the Sydney Film Festival. After taking aim at classism, consumerism, and capitalism in his two previous films, Snowpiercer and Okja, Bong once against shoots straight at the heart of these achingly relevant themes. The result is nothing short of a cinematic masterpiece.

While Parasite may not be surrounded by the lashings of metaphorical meanings from the sci-fi settings of his recent work (calling it his most "accessible" film almost seems like a disservice), it's every bit as bitingly sharp and wickedly sinister as anything the director has offered up before. A familial dark comedy-drama, think of it as the twisted cousin to last year's brilliant Shoplifters. That's a double bill waiting to happen.

A blistering contemplation on the deep divide between classes, Parasite is strangely one of the most entertaining romps of the year, thanks to a hefty dose of deliciously hilarious black comedy, delivered from one of the year's best screenplays. But the film consistently subverts expectation with a narrative which twists and turns in unimaginable ways, leading to a breathtaking ending that will leave you stunned.

Now, I went into this film with absolutely zero knowledge of the plot, and my viewing experience was ultimately richer for it. If you'd prefer to head in with a similar outlook, maybe skip the next three paragraphs where I will attempt to remain as cryptic as possible.

We first meet Ki-Taek (Song Kang-ho), his wife Chung-soon (Chang Hyae-jin), and their two teenage children Ki-Woo (Choi Woo-shik) and Ki-jung (Park So-dam) in their cramped, squalid basement-level apartment. After the unemployed family find their mobile phones cut off, they each scurry around their home, attempting to steal WiFi from anyone nearby without a password. Barely making ends meet by folding boxes for a local pizza shop, the family is a glaring representation of South Korea's crippling unemployment crisis.

Soon enough, opportunity comes knocking for Ki-Woo to earn some much-needed cash in the form of a job tutoring English to Da-hye (Jung Ziso), daughter of the uber-wealthy Mr. Park (Lee Sun-kyun) and his charmingly dim-witted wife Yeon-kyo (Cho Yeo-jeong). Utilising Ki-jung's Photoshop skills to forge a university degree, Ki-Woo soon finds himself in the architectural marvel that is the pristine Park family mansion, overseen by their faithful housekeeper Moon-gwang (Lee Jung-eun) and the playground of the Park's out-of-control "art prodigy" son Da-song (Jung Hyeon-jun).

Ever the resourceful opportunist, Ki-Woo soon seizes on the gullible nature of Mrs. Park and sets about a dastardly plan to secure jobs within the Park household for his entire family. As Ki-Woo's scheme comes to fruition with perfect precision, he unwittingly sets into motion a huge twist in this tale, as we discover Ki-Taek and his parasitic family may have more challenges to contend with than ever expected.

At times during the first hour of Parasite, the film plays like a farcical heist melodrama, as the gloriously diabolical scam is enacted with expert skill, all furiously edited with terrific style by Yang Jin-mo. There is impeccable craft at play in this sinister and selfish game that often led to thunderous applause from an audience devouring each sinful trick. Every lie and sabotage is downright delicious, as the family exploit any shred of information for their own wicked gain. Who knew a peach allergy could be so damn hilarious?

It's impressive Bong doesn't immediately take the obvious path of portraying the Park family as reprehensible, privileged assholes who deserve to be taken for the naive fools they ultimately are. They're undoubtedly elitists, but their true attitude to those of the lower class subtlely unveils itself slowly over time. Initially, they're all surprisingly "nice." As Chung-sook bemoans, "If I was rich, I would be nice too." Instead, we cheer for the scheme to play on their credulous minds because it's so damn masterfully executed and Ki-Taek's family all work in perfect harmony to pull the whole thing off. Danny Ocean has nothing on this family.

But the mastery of Bong's direction and screenplay (co-written with Han Jin-won) lies with how quickly this film can shift tones, knocking you right off your feet with moments of excruciating tension to balance the whimsical fun. You'll often assume Parasite is taking one path, as it plays with an audience's expectations with deft delight. But the narrative consistently turns on its heels and travels to places you cannot possibly foresee, particularly the film's startling finale, which is Bong at his brutal best.

At its heart, Parasite is a damning dissection of class imbalance; a universal theme to strike a chord with audiences of any nation. There's furious anger to Bong's direction that seethes through every frame of this film, crafting a piece of cinema whose power lies in its painful relevance. For those in the lower class to succeed, their only option is to take down those above them, which juxtaposes the Park's rose-coloured view that people of different classes can co-exist in natural balance. When their niceties start to crack, it's clear that's nothing more than a lie.

Nothing contrasts the jarring lifestyle disparity better than the sublime production design from Lee Ha-jun. The Park residence, bursting with natural light and a perfectly manicured backyard, is a spacious and sleek palace where dazzling granite, concrete, rock, and glass ultimately hide a dark secret within. Meanwhile, Ki-Taek's subterranean slum is a dilapidated disaster where the family have to constantly contend with local drunkards urinating and vomiting on their very doorstep. It's this inescapable symbolism which evokes so much through visuals alone.

When coupled with Jung Jaei-il's soaring classical score, which almost seems to thumb its nose at the conceited ethics of the Park family, and the sober but effective cinematography of Hong Kyung-po, it's a perfect example of every single facet of filmmaking working in gorgeous unison. Bong has crafted a film which intensely attacks the hierarchy of classism and forces an audience to confront the dire state of 21st-century oppression. By mixing tongue-in-cheek black comedy with sharp social commentary, Bong offers a film that can entertain as skillfully as it can enlighten and narrative that will delight as much as it will disturb.

Parasite remains a piece of cinema you simply cannot look away from. A masterful portrait of inequality and imbalance, it's a work that, like its titular namesake, latches on and never once lets go. With a narrative in a perpetual state of metamorphosis, nothing is ever at it seems in Bong's dizzying masterpiece. Both giddily entertaining and ferociously shocking, Parasite is a film you simply can't shake from your mind. Brace yourself for this one. You won't know what hit you.





Distributor: Madman Films
Cast: Song Kang-ho, Choi Woo-shik, Chang Hyae-jin, Park So-dam, Lee Sun-kyun, Cho Yeo-jeong, Jung Ziso, Lee Jung-em, Jung Hyeon-jun
Director: Bong Joon-ho
Producers: Jang Young-Hwan, Moon Yang-kwon, Kwak Sin-ae
Screenplay: Bong Joon-ho, Han Jin-won
Cinematography: Hong Kyung-pyo
Music: Jung Jaei-il
Production Design: Lee Ha-jun
Editor: Yang Jin-mo
Running Time: 131 minutes
Release Date: 27th June 2019 (Australia)