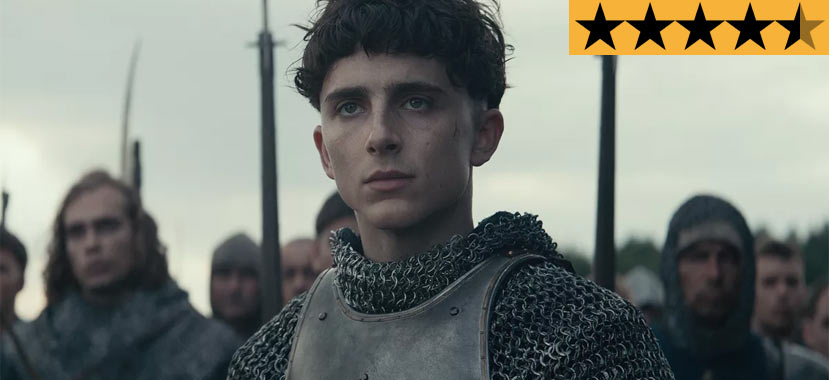 13 Oct

REVIEW – 'The King' breathes new life into this well-worn tale

Way back in 1996, Baz Luhrmann's Romeo + Juliet twisted a classic piece of Shakespeare's work into something palatable enough for mainstream audiences to lap up, particularly teenage girls currently fawning over a young Leonardo DiCaprio. Taking equal inspiration from a piece of Shakespeare and with this generation's teen dream Timothée Chalamet at its helm, David Michôd's The King might just unintentionally pull in a similar crowd.

Whereas Luhrmann's work was a direct (albeit wildly unique) Shakespearean adaptation, The King blazes its own daring trail by leaving Shakespeare's infamous iambic pentameter behind, reworking a hefty dose of the plot, and essentially cramming three of his works (Henry IV, Parts 1 and 2, and Henry V) into one epic film. You can almost hear the sound of Shakspearean purists clutching their pearls.

While Shakespeare's influence is clearly all over this film, the playwright is curiously left uncredited, essentially giving Michôd and co-writer Joel Edgerton free license to craft their film however they see fit. Frankly, it proves to be a masterstroke with The King standing as far more accessible and remarkably relevant than previous incarnations of this well-worn medieval tale.

The rapscallion Prince Hal (Chalamet) was never destined to rule the throne. Shunning his royal duties, Hal prefers to spend his days womanising and getting drunk with former knight and current petty criminal Sir John Falstaff (Edgerton). Despite being the eldest son and rightful heir, his dying father, King Henry IV (a brief but brilliant Ben Mendelsohn) decrees Hal's younger and far more dignified brother, Thomas (Dean-Charles Chapman) will soon be the king.

But when the King finally succumbs to his leprosy, a shocked Hal learns Thomas can no longer assume the throne (for reasons that will remain unspoiled), bequeathing the title of King of England to fall to him by default. After leaving Falstaff behind and acquiring a fresh new bowl-cut hairdo and some fancy new clothes, the newly appointed King Henry V is ready to rule.

Desperate to move England towards friendlier and more prosperous times, Henry strives to be a ruler of peace, unlike his warmongering father. But it's not long before war comes knocking on England's door, with France posing an immediate threat to Henry's life and his rule.

Spurned to launch an assault on French soil by his trusted advisor William (Sean Harris), Henry wisely recalls Falstaff to his side as his chief military strategist. It's not long before England's troops are heading into an outnumbered battle against a massive French army, led by the pompous Dauphin of France (Robert Pattinson).

If medieval period films aren't really your cup of tea, The King may be the very film to change your mind. Michôd has deftly managed to breath new life into the story you may have been forced to suffer through during your school days. While the first two acts meticulously move in slow-burn style, the film eventually hits its stride and fires off into a conclusion that's equal parts wildly thrilling and blisteringly captivating.

It's in those first two parts that Michôd takes his time to slowly unravel his exploration of politics and the debilitating heavy weight world leaders ultimately carry. For a film set in the 15th century, The King has blinding relevance in a modern-day context. Much like many new leaders, the naive Hal begins his reign longing for peace and solidarity, shown by his initial rejection of a war with France out of desperation to avoid his father's blood-soaked legacy.

But it's not long before those surrounding him begin to corrupt his mind with their own ideas for how he should react to the apparent taunts of his French counterpart. It's here that Michôd and Edgerton's writing shines through, offering a rather damning introspection on whether England's war with France and the bloody violence it created was at all necessary or nothing more than two royal rivals battling over who had the biggest sword. It's a question one could pose of any war in both ancient and modern history.

As we follow Hal's journey from timid monarch to ruthless ruler, it highlights just how quickly those with the purest of intentions can easily fall under the pressure of leadership and the nefarious influence of the selfish men around them. Every leader wishes to avoid the pitfalls and failures of those who came before. Yet, somehow, history often seems damned to repeat itself. For all his pontificating for peace, King Henry V soon becomes little more than a carbon copy of his predecessor.

In another performance cementing him as one of the most exciting young actors of his generation, Chalamet is terrific in a transformative turn that showcases his immense talent. With his delicate features and slender physique, Chalamet is perfectly cast as the boyish imp with desires far removed from the throne. But it's when Hal becomes Henry and the responsibilities of the monarchy take their toll that Chalamet's character transforms into something else entirely.

Showing far more ferocity than anything he's offered before, Chalamet is magnificent when required to show Henry's growing temper and ever-shortening fuse, particularly in the blistering conclusion when the King finally begins to see the error of his ways. By this very conclusion, the burden of the throne has left its mark and every inch of that pain is conveyed in Chalamet's wildly expressive face. It's unfathomable his performance currently has zero Oscar buzz. He damn well deserves to be acknowledged for what he delivers here.

As with all great period films, The King features a supreme supporting cast of characters, led by Edgerton in one of his finest performances to date. As the gruff, straight-shooting Falstaff, Edgerton is the perfect anthesis to Chalamet's Henry, crafting a dynamic duo who are a joy to watch. Their friendship is genuinely charming and his military mind is a gift the King is so desperately in need of.

Falstaff understands the pointlessness of war more than most, yet knows better than to expect peace is ever a viable option. His guidance is less about avoiding combat, but rather ensnaring victory, no matter the odds. It's a role Edgerton handles with aplomb, gifting Falstaff with a grouchy yet warmly endearing persona that threatens to steal the entire film.

But the real scene-stealer is teen idol turned indie darling Pattinson, who brings a hefty dose of levity to the film with an outrageously silly yet incredibly menacing performance as the Dauphin of France. It's a role seemingly unsuited for the typically dour and serious Pattinson. Yet, his casting proves rather masterful and offers another layer to his burgeoning talents.

The foppish and arrogant heir apparent takes great delight in mocking both Henry and England as a whole. When the pair first meet, Henry kindly offers to speak in French, but the Dauphin refuses by noting, "I enjoy to speak English. It is simple and ugly." With an exaggerated French accent and a flamboyantly campy demeanour, Pattinson chews every piece of scenery within sight, offering a portrait of a petulant royal who seems to desire war for no reason other than to cure his boredom.

While the film is undoubtedly stacked with men, it's dotted with two female supporting turns to offer some balance to the testosterone-heavy cast. An underused Thomasin McKenzie pops in as Hal's beloved sister Phillippa, but she's sadly given little to do. It's Lily-Rose Depp who's offered the meatiest female role of Catherine, daughter of King Charles VI of France.

Unsurprisingly, it takes a woman to note the unnecessary nature of war, with Catherine taking deft delight in ripping Henry's toxic masculinity to shreds and calling him out on his woeful failures as monarch. It's a blistering scene that offers the first moment anyone dares challenge Henry's misplaced ego and ultimately sets him on a more enlightened path. Ah, yes. Behind every great man, there's an even better woman.

Elevated by authentic period production design from Fiona Crombie and costume design by Jane Petrie, The King is a visual masterwork, particularly in the gruelling climactic Battle of Agincourt, which is a brutal and vicious experience that needs to be seen on the largest screen possible. Capturing every moment with impressive skill is cinematographer Adam Arkapaw, who consistently films in natural light and a muted colour palette to create an understated yet beautiful aesthetic.

It's a shame most will likely view The King on their television screen, as it begs to be sought out theatrically. Michôd crafts a gripping and layered piece of cinema that truly works best on the big screen. With a narrative that serves as an important political learning lesson, The King rises above its medieval setting to stand as a film that's wildly relevant.

Refreshing a story most probably have little interest in hearing again, it's everything a loose Shakespearean adaptation should be. The King takes what made this tale great and morphs it into something even grander. Better yet, the film once again showcases why its leading man is a blazing young talent only a fool would continue to ignore. All hail King Chalamet.





Distributor: Netflix
Cast: Timothée Chalamet, Joel Edgerton, Robert Pattinson, Ben Mendelsohn, Sean Harris, Tom Glynn-Carney, Lily-Rose Depp, Thomasin McKenzie
Director: David Michôd
Producers: Todd Lieberman, David Hoberman, Tom Harper
Screenplay: David Michôd, Joel Edgerton
Cinematography: Adam Arkapaw
Production Design: Fiona Crombie
Music: Nicholas Britell
Editing: Peter Sciberras
Running Time: 140 minutes
Release Date: 11th October 2019 (limited Australian engagement), 1st November 2019 (streaming on Netflix)