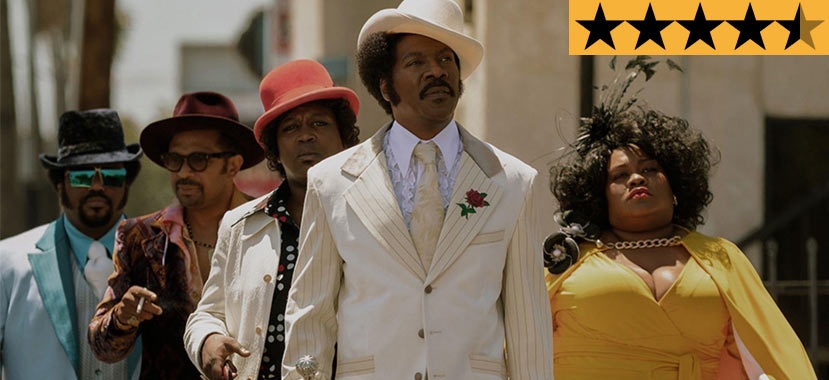 28 Oct

REVIEW – 'Dolemite Is My Name' is just so joyous, endearing, and motherf**kin' fun

Sometimes, a movie star disappears, never to be heard from again. Occasionally, it's more an extended break before a stellar comeback performance to put them right back on the map. We've seen that once already this year, with Renée Zellweger making a roaring return in Judy. Now it's time for the glorious resurrection of Eddie Murphy, in a performance that's the best thing he's offered in more than a decade.

After a string of disastrous failures which led to four (!) Razzie Award nominations in just six (!!) years, Murphy is back to his brilliant best in the role he was born to play. In Dolemite Is My Name, aka Netflix's latest in its string of major Oscar contenders, Murphy reminds us why he became a huge star some 35 years ago, finally leaving those family-centric films far behind.

With all the rambunctious profanity and outlandish behaviour that made him a household name, Murphy shines in a film overflowing with heart, humour, and wicked fun. An underdog story that will have audiences cheering, Dolemite Is My Name is a loving tribute to the tenacious spirit of one of the most improbable success stories the entertainment world has ever known.

Rudy Ray Moore (Murphy) is all washed up. After recording a few mediocre R&B singles in the late 1950s, it's now the early 1970s and Rudy is stuck working as the assistant manager of Dolphin's of Hollywood, a South-Central record store where even the in-house deejay (Snoop Dogg) won't play his records.

Moonlighting on the side as an MC at a local nightclub, Rudy is occasionally sympathetically offered a five-minute slot to serve up a series of lame jokes few pay attention to before the main act takes the stage. But a fateful encounter with homeless man Rico (Ron Cephas Jones) soon sparks a daring idea that just might save his ailing career.

After hearing Rico recount a series of sexually explicit and profanity-laced rhyming stories of a fabled pimp and hustler by the name of Dolemite, Rudy decides to assume the folklore persona and adapt the tales into a unique new nightclub act. Adorning himself in a garish outfit, a cane, and an old wig he finds in his closet, Rudy's transformation into Dolemite is complete.

When the act is a huge hit, Rudy decides to record his performance in the hopes of repeating his success in record stores. Given the profanity, it's unsurprising no record company will dare release it, leading to Rudy selling the album himself in a brown paper bag, which sell like hotcakes. Suddenly, Dolemite is the hottest name in comedy.

As the cash rolls in and Dolemite plays a series of sold-out performances around the country, where he meets sassy former back-up singer Lady Reed (a sublime Da'Vine Joy Randolph), who becomes his performance partner-in-crime, Rudy decides it's time to aim higher. Setting his sights on Hollywood, Rudy is determined to make a movie full of everything he finds lacking in the most popular comedy movies of the day, namely "car crashes, explosions, and titties." There's just one small problem; no studio wants anything to do with it.

With echoes of Ed Wood, Bowfinger, and The Disaster Artist, Dolemite Is My Name is another supremely entertaining look at the behind-the-scenes chaos of making a film on a shoestring budget. It's when the production shoot starts that the film's heartiest laughs are elicited. Working inside an abandoned and dilapidated hotel, Rudy pulls together a rag-tag team of amateurs to help bring his dream blaxploitation film to life.

Achingly serious playwright Jerry Jones (a terrific Keegan-Michael Key) is somehow roped into writing the screenplay, which, much to his horror, soon becomes twisted beyond the socially-aware masterwork he had in mind. Lady Reed is cast as Queen Bee, the film's ballsy leading lady. And faded bit-player actor (he once played the elevator operator in Rosemary's Baby) D'Urville Martin (a riotous Wesley Snipes) begrudgingly agrees to play the villain, as long as he can also be the film's director, despite having no clue how to actually direct.

While the film suffers from a lack of dramatic tension, as it's rather obvious the production of Dolemite will ultimately be a success, given this biopic wouldn't exist if it all failed, it's still delicious fun to watch the madcap mayhem of what it took to craft a film you've possibly never heard of. The blaxploitation genre rarely gets the credit it deserves as an important moment in American cinema. It's decidedly refreshing something like Dolemite Is My Name can bring new light to this era of filmmaking.

Yes, these films were full of uncomfortable stereotypes woke audiences of today furrow their brows at. But, in the 1970s, these films gave black audiences the first real chance to see themselves on screen. They were finally the stars of their own movies. Not the sidekick. Not the villain. Not the comic relief. The leads. That was Rudy's ultimate goal with crafting Dolemite. For all his dreams of personal success, he clearly also yearned to give an audience what he knew they were wanting. And he was damn right.

For all its hilarity and absurdity (the filming of a particularly wild sex scene is one of the most hilarious moments you'll see this year), Dolemite Is My Name is ultimately an adoring testament to the tenacity of Rudy Ray Moore. With doors constantly slammed in his face, Rudy made something out of absolutely nothing, both on the comedy scene and the movie industry. It's hard not to love an underdog story, especially when that very underdog is played via such a tour-de-force performance.

After his Oscar-nominated turn in 2006's Dreamgirls, Murphy fell into a horrendous slump of god-awful comedies that derailed his entire career. Wisely stepping away for several years, the comedian makes a triumphant return with an energetic and fierce performance deserving of Oscar consideration. It's a role he clearly connects heavily with, as Rudy ultimately paved the path for the stand-up comedy that made Murphy a star. When an actor identifies with their character on a deeply personal level, the resulting performance is always rather breathtaking.

With an insatiable drive to succeed and the guts to put it all on the line, Rudy is a wildly endearing character you want to see achieve everything he puts his mind to. Murphy is unsurprisingly terrific in the film's comedic moments, with the boundless energy and sheer commitment to comedy we haven't seen from the actor since The Nutty Professor. But it's in the quieter, more dramatic moments that elevate Murphy's performance to another level, crafting a fully-rounded character that's one of the year's finest performances.

While this is undoubtedly Murphy's show, it's the ensemble cast surrounding the star that makes Dolemite Is My Name that much more entertaining and charming. Key is typically great as the beleaguered screenwriter who can't quite understand Rudy's unsettling cinematic vision. Craig Robinson, Tituss Burgess, and Mike Epps play Rudy's closest allies who loyally support their friend's daring dreams. And, in an all-out bonkers performance, Snipes has never been better, as the wildly eccentric and contemptuous actor whose false sense of superiority is downright hilarious.

But it's Randolph who ultimately steals the show here, with a sublimely captivating performance as the faded singer whose dreams of a career in show business are reignited by Rudy's uncompromising belief in her. From the moment she appears onscreen, punching her cheating spouse right in the nose, Randolph captures your attention and relishes every opportunity the film provides her. Her sass hides deep pain, and Randolph takes deft care with unfurling the layers of this nuanced performance. Frankly, she deserves awards attention, right alongside Murphy.

Complemented by stunning costume design work by recent Oscar winner Ruth E. Carter and meticulous period production design from Clay Griffith, Dolemite Is My Name is a gorgeous love letter to the era of blaxploitation and a touching tribute to one of its unlikeliest stars. A perfect vehicle to mark the return of Eddie Murphy, this is a film that's just so joyous, endearing, and motherf**kin' fun.





Distributor: Netflix
Cast: Eddie Murphy, Keegan-Michael Key, Mike Epps, Craig Robinson, Tituss Burgess, Da'Vine Joy Randolph, Kodi Smit-McPhee, Snoop Dogg, Ron Cephas Jones, Barry Shabaka Henley, Tip 'TI' Harris, Luenell, Tasha Smith, Wesley Snipes
Director: Craig Brewer
Producers: John Davis, John Fox, Eddie Murphy
Screenplay: Larry Karaszewski, Scott Alexander
Cinematography: Eric Steelberg
Production Design: Clay Griffith
Costume Design: Ruth E. Carter
Music: Scott Bomar
Editing: Billy Fox
Running Time: 117 minutes
Release Date: 25th October 2019 (Netflix)