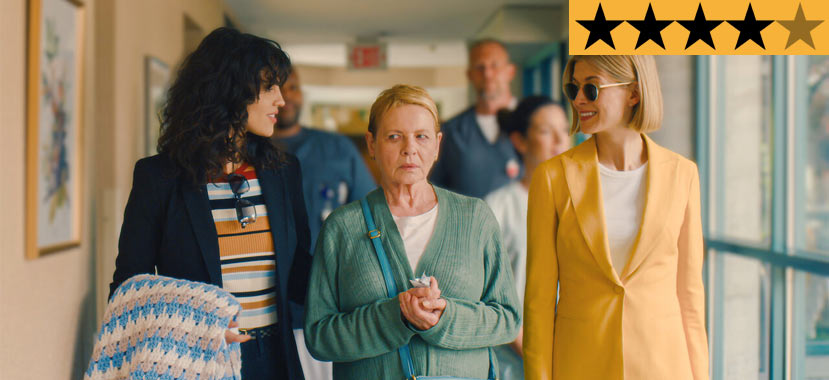 18 Feb

REVIEW – 'I Care a Lot' is a glorious return to form for Rosamund Pike

Back in 2014, Rosamund Pike should have won an Academy Award for her sensational performance in David Fincher's Gone Girl. If not for the Julianne Moore "overdue" freight train, Pike would have easily waltzed away with that Best Actress Oscar. Seven years later, she's back with an equally icy femme fatale who would undoubtedly give Amy Dunne a run for her money. In J. Blakeson's terrifically entertaining and deliciously wicked thriller, I Care a Lot, Pike reminds us why she came within an inch of Oscar glory and delivers another antihero who's both captivating and terrifying.

Pristinely dressed in chic suits and sporting a perfectly manicured blonde bob, Marla Grayson (Pike) is the personification of the corporate world. Through her company, Grayson Guardianship, Marla uses her position of power as the court-appointed legal guardian of a series of elderly patsies to steal every last cent from their life savings before dumping them in retirement homes. With a compelling way with words and endless charisma, Marla effortlessly manipulates the system for her own sinister gain with her girlfriend and partner-in-crime, Fran (Eiza Gonzalez).

Along with Fran, Marla has amassed a network of co-conspirators to facilitate her devious scheme including sleazy aged care administrator Sam Rice (Damian Young) and Dr. Karen Amos (Alicia Witt), who falsifies medical assessments of potential "cherries" for Marla to hustle. When a vacancy opens up at Sam's facility, Karen suggests kindly grandmother Jennifer Peterson (Dianne Wiest) as their next target.

With no family in sight, a plush home in an upper-class neighbourhood, and a large nest egg in the bank, Jennifer seems the perfect sitting duck. But once Marla whisks the befuddled grandmother into Sam's care, she soon learns Jennifer has a few powerful connections who won't sit quietly including shady legal shark Dean Ericson (a perfectly smarmy Chris Messina) and gangster Roman Lunyov (Peter Dinklage, chewing every piece of scenery).

To say much more would spoil the deliciously chaotic fun of Blakeson's sixth feature film. Suffice to say the seemingly innocuous Jennifer is far more than the nefarious Marla ever bargained for. I Care a Lot is essentially a two-act melodrama where the first act plays like a satirical black comedy before shifting into a nasty revenge thriller in the second part. Blakeson's screenplay wisely takes it time to reveal its true nature. That first act is packed full of giddy laughs and irreverent comedy that soon gives way to a genuinely menacing cat and mouse game with all manner of twists, turns, and shocks. It's a film that will keep you on your toes, especially given Blakeson refuses to make it clear who we should be rooting for.

Marla is the textbook definition of a cinematic antihero. There's no doubt she's a shrewd, manipulative villain who performs some decidedly nasty acts on innocent people for her own personal gain. But in the hands of the endlessly talented Pike, Marla is somehow strangely sympathetic, particularly once the tables are turned on her smooth operation and the hunter becomes the hunted. Pike plays Marla with such cool ice, sly confidence, and caustic venom that we actually want to see her succeed. Pike is astoundingly good in the best performance she's given in years, harkening back to the intoxicating wickedness we saw in Gone Girl.

Dinklage's Roman proves the perfect rival for Marla and it's clear she's finally met her match in the crime lord with a curious penchant for artisanal pastries. It's a big, brash performance where Dinklage throws it all on the wall and, thankfully, it completely sticks. Dinklage absolutely shines as the menacing, unhinged gangster with the actor throwing off the shackles of his wise, measured Game of Thrones persona in a manic turn that's rather glorious to watch. Wiest is typically great, albeit somewhat underused in a rather thankless role. González is a wonderful partner for Pike to bounce off, and it's great to see the charismatic Messina sleaze it up as a greasy lawyer with questionable morals.

While I Care a Lot weaves a bitingly cynical portrait of American greed, excess, and ruthless ambition, Blakeson doesn't dig deeply enough into the failures of legal guardianships where abuse is absolutely rife. At a time when Britney Spears' contentious conservatorship is rightfully making headlines, the film is indeed hitting at just the right moment. However, once Blakeson's plot diverts into thriller territory, it loses focus on its potentially potent message. There's a concerted effort to loop back in its shocking, breathtaking climax, but it's a shame the film deviates away from the raw power of a devastating issue that's occurring in real-time.

Still, it's a minor quibble in such a genuinely enjoyable piece of cinema where there's rarely a dull moment. Smart, entertaining, and wickedly dark, I Care a Lot is an exhilarating thrill ride elevated by its impeccable leading lady. It's a glorious return to form for Pike who is so clearly suited to playing a wolf in sheep's clothing. She owns this film as only she can, and what a delight it is to see her back at her devilish best. You'll have no idea where this sardonic little gem is heading, but you won't be able to take your eyes off Pike.





Distributor: Netflix/Amazon Prime
Cast: Rosamund Pike, Peter Dinklage, Eiza González, Dianne Wiest, Chris Messina, Isiah Whitlock Jr., Macon Blair, Nicholas Logan, Damian Young, Alicia Witt
Director: J. Blakeson
Producers: Teddy Schwarzman, Ben Stillman, Michael Heimler
Screenplay: J. Blakeson
Cinematography: Doug Emmett
Production Design: Michael Grasley
Costume Design: Deborah Newhall
Editor: Mark Eckersley
Music: Mark Canham
Running Time: 118 minutes
Release Date: 19th February 2021 (Worldwide)