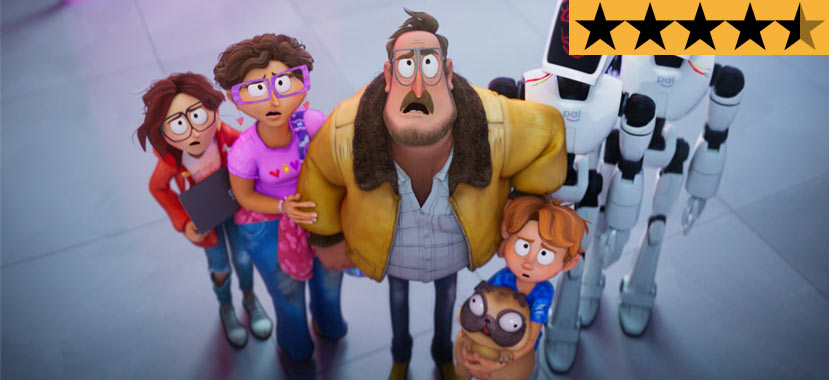 30 Apr

REVIEW – 'The Mitchells vs. The Machines' sets a high benchmark for animation in 2021

After winning their umpteenth Academy Award for Best Animated Feature this week, Pixar continues to strengthen their stranglehold on the world of animation. They changed the game with Toy Story back in 1995 and have dominated the animated space ever since. But if there's one animation studio that feels like it could lay claim to Pixar's crown, it's Sony Pictures Animation and their dynamic production duo Phil Lord and Christopher Miller.

Their vastly underrated 2009 gem Cloudy With a Chance of Meatballs hinted at the greatest that was to be unfurled with the pair's revolutionary 2018 Oscar-winning masterwork, Spider-Man: Into the Spider-Verse. Lord and Miller strike gold once again with writer-directors Michael Rianda and Jeff Rowe's sensational The Mitchells vs. The Machines. A visually dazzling delight with a heart as big as its ambition, it's a marvellous creation that's entertaining, endearing, and genuinely hilarious.

Katie Michell (Abbi Jacobson) has always felt like an outsider both at school and at home with her overbearing family. After years of escaping into her passion for filmmaking, tech-loving Katie is about to head off to film school in California where she hopes to find new friends who understand her better than her outdoorsy father, Rick (Danny McBride). When Rick senses an emotional divide growing between father and daughter, he cancels her flight to college and loads the family into the car for one final road trip in a desperate bid to reconnect with his distant child.

Along for the ride are doting wife and mother, Linda (Maya Rudolph), Katie's dinosaur-obsessed little brother, Aaron (Rianda), and the family's beloved pooch Monchi (based on and "voiced" by internet star Doug the Pug). At the same time as the Mitchells hit the road, tech colossus PAL Labs and its founder Mark Bowman (Eric Andre) are unveiling their latest gadget PAL MAX, an A.I.-powered robot who Bowman promises would never harm a human.

When the A.I.'s virtual assistant PAL (Olivia Colman) doesn't take kindly to the robots rendering her obsolete, she launches her nefarious plan to turn every machine with a PAL chip into evil villains and capture every human on the planet with the intent to launch them into outer space forever. By pure happenstance, the Mitchells remain the last humans not to be apprehended, leaving it up to this dysfunctional family to end the robocalypse and save the world.

A spectacular fusion of stunning 3D animation and traditional 2D creations, The Mitchells vs. The Machines feels like an epic graphic novel come to life. It continues Sony Pictures Animation's impressive dedication to creating animated films unlike any you've seen before. As the film is told from Katie's perspective, we often see the world through her eclectically artistic eyes and pop culture consumed brain. Rianda and Rowe essentially hand the film over to their young protagonist, allowing the character to hand-draw her emotions and imagination through vivid overlays that truly follow their own unique style.

Not only does this give an audience a keen insight into Katie's endlessly creative mind, but it also crafts a visual wonderland that truly leaps off the screen. This is another deft display of a Lord and Miller production refusing to play by the rules of typical 3D animation. It's why their work feels as revolutionary as the early days of Pixar. Rianda and Rowe are taking such bold risks here, but it all pays off tremendously. Just when you think the film is pushing too far with these overlays, the co-directors know to ease back or throw something completely unexpected at you.

But glorious visuals alone are not enough to create a truly special animated film. Rianda and Rowe's screenplay creates an endearing family dynamic through an impressive level of character depth that makes you feel like you've known the Mitchells for years. Almost immediately, you form a connection with this kooky family, namely due to the fact they all feel like three-dimensional characters with their own individual traits and unique idiosyncrasies. At the heart of the narrative is a charming father-daughter story centred on the crushing emotional divide that inevitably grows when parent and child are polar opposites.

Rick is an outdoorsman who loves to fix things and can't use a computer to save his life. Katie is a quirky, artistic free spirit who sees technology as her outlet to express herself. No matter how hard he tries, Rick can feel his beloved little girl slipping from his fingers, while Katie can't wait to start her new life away from her father. In the midst of a global catastrophe, their undeniable bond will be tested but the true answer to reconnection lies in acceptance. There's also a queer thread to Katie's story, but it never feels exploitative or something that's merely tacked on for the sake of "wokeness."

Naturally, there's another inescapable message to this film. Its storyline also centres on the potential dangers of technology and how our overreliance on the phones and computers meant to connect humanity is actually driving us further apart. It could also serve as a warning to the world in regards to the lack of ethics from those who run companies like Google, Facebook, and Apple. Thankfully, Rianda and Rowe are wise enough not to beleaguer this point too heavily and sharply avoid the film ever becoming nauseatingly preachy. They never lose sight of the film's true heart and the emotional beats between Rick and Katie create several touching moments that will hit you in all the feels.

Bringing The Mitchells vs. The Machines to life is a phenomenal ensemble voice cast, led by the empathetic, earnest performances of Jacobson and McBride, who create a terrifically endearing father-daughter team that feels incredibly genuine. Rudolph is typically delightful as the peacemaker mother, but her performance reaches another level when Linda gets her Kill Bill on in the climax.  SNL alumni Fred Armisen and Beck Bennett steal focus as a pair of defective robots with unexpected hearts of gold. But it's the deliciously nasty Colman who knocks it out of the park with her pitch-perfect line delivery as the antagonistic voice assistant. Who knew a villain created from nothing more than a smiley face could be so genuinely menacing?

To complement the dazzling visuals and thrilling action set pieces is an array of genuinely hilarious jokes and sight gags that create one of the funniest animated films in years. A running gag involving the robots' confusion at the sight of Monchi is a genuine hoot, but a chaotic sequence featuring an army of ominous Furbys truly left me in hysterics. While not every joke lands, Rianda and Rowe keep the pace moving so they're already onto their next gag that will have you instantly forgetting the ones that didn't work.

A total blast from start to finish, The Mitchells vs. The Machines is everything an animated film should be, and then some. When you combine a cast of deeply layered characters with sublime animation, thrilling sequences, and a screenplay with an equal measure of heart and humour, you're given a supreme example of everything the animated genre can deliver. The film has already set a high benchmark for animation in 2021. Your move, Pixar.





Distributor: Netflix
Cast: Danny McBride, Abbi Jacobson, Maya Rudolph, Eric André, Olivia Colman, Fred Armisen, Beck Bennett, John Legend, Chrissy Teigen, Blake Griffin, Conan O'Brien, Charlyne Yi, Sasheer Zamata, Alex Hirsch, Jay Pharoah
Director: Mike Rianda
Co-Director: Jeff Rowe
Producers: Phil Lord, Christopher Miller, Kurt Albrecht
Screenplay: Mike Rianda, Jeff Rowe
Editor: Greg Levitan
Music: Mark Mothersbaugh
Running Time: 113 minutes
Release Date: 30th April 2021 (Worldwide)