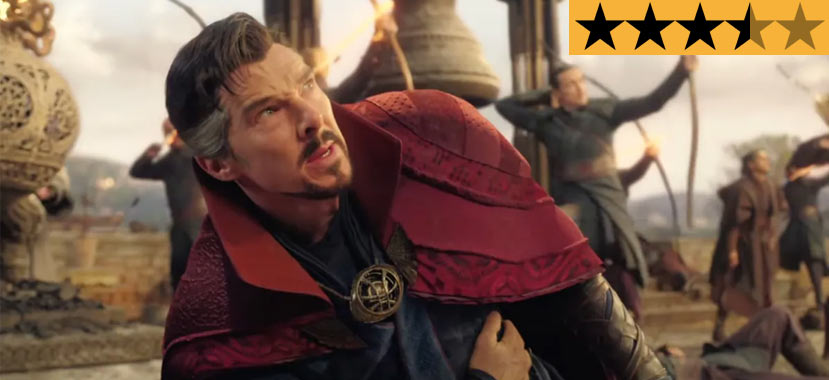 04 May

REVIEW – 'Doctor Strange in the Multiverse of Madness' both takes incredible risks and still plays it safe

After more than a decade of films that mostly followed the same tried and true formula, Phase Four of the Marvel Cinematic Universe seems determined to offer something different, particularly its commitment to completely shattering the notion of reality by virtue of its newfound obsession with the "multiverse" concept.

Disney+ shows like WandaVision, Loki, and What If…? all gleefully dabbled with the idea of multiple universes with infinite possibilities. The box office juggernaut Spider-Man: No Way Home shrewdly utilised alternate realities to bring back a plethora of familiar faces. And now Doctor Strange in the Multiverse of Madness is here to completely mess with your brain.

A messy, chaotic mix of a dozen ideas that don't quite all gel together harmoniously, Doctor Strange in the Multiverse of Madness deserves admiration for taking plenty of mighty big swings of the bat. Stylistically and thematically, it's unlike any MCU film thus far. And that's going to prove to be hugely divisive. As it stands, I'm sitting somewhere in the middle.

The film opens with Stephen Strange (Benedict Cumberbatch) attending the wedding of his former love, Christine Palmer (Rachel McAdams). While downing a martini and mourning the loss of the heart of his beloved, Strange is alerted to the sudden emergence of a giant tentacled monster on the streets of New York City with its sights seemingly set on spunky teenager America Chavez (a scene-stealing Xochitl Gomez). With the assistance of Sorcerer Supreme Wong (Benedict Wong), Strange rescues America and quickly realises she's no ordinary teenage girl.

Blessed with the powerful gift to literally punch her way through the multiverse, America has arrived from an alternate reality where her version of Doctor Strange failed to protect her from an onslaught of attacks from demons out to steal her power. After uncovering evidence of mystical arts being responsible for the attacks on America, Strange turns to his powerful witch pal Wanda Maximoff (a typically magnificent Elizabeth Olsen) for help. Still in the grips of grief over the events at Westview and the loss of her "children," Wanda has dark plans of her own for America's gifts.

To say much more would see this review start to enter into spoiler territory, but this brief plot summary barely scratches the surface of the "madness" suggested in the title. It's a hefty serving of multiverse chaos that presumes its audience is already well-versed in the complex lore of alternate realities laid down in previous Marvel films and television properties. If you haven't seen the previous Doctor Strange film, Spider-Man: No Way Home, WandaVision, and, to a lesser extent, What If…?, this film has little interest in catching you up to speed.

Sure, the Marvel fanbase is fairly ravenous and the majority of its faithful members gobble up every piece of MCU content Disney pumps out. But it's always mildly self-indulgent to make presumptions about an audience's knowledge of past events, particularly with properties broadcast across multiple media platforms. For those who only follow the Marvel theatrical releases, their last glimpse of Wanda was decidedly different to how she appears at the start of this film. And the mention of her missing children won't make a lick of sense to those unfamiliar with her exploits on television.

For better or worse, Doctor Strange in the Multiverse of Madness hits the ground running and merely assumes the viewer can keep up. To his credit, screenwriter Michael Waldron spends plenty of time laying the framework for the complicated plot that will eventually include multiple versions of Strange, Wanda's hunt for a universe where she can reunite with her children, and Strange and America's quest to locate the mythical Book of Vishanti with the help of alternate versions of Christine and a non-villainous version of Karl Mordo (Chiwetel Ejiofor). Oh, and a tonne of surprise cameos I dare not spoil. There's a lot going on here. Maybe too much. That's equally exhilarating and exhausting. And Waldron's often ghastly dialogue doesn't help matters either.

At the helm of all this chaos is director Sam Raimi, who returns to the superhero genre for the first time since changing the game with the original Spider-Man trilogy. For those hoping Disney would allow Raimi to inject his penchant for twisted, dark delights into the Marvel franchise, I'm pleased to say this is definitely the closest we'll ever get to an MCU horror film. While Raimi isn't completely unleashed (the film is still rated PG-13, after all), he doesn't shy away from offering lashings of disturbing imagery, brutal deaths, supernatural terrors, and jump scares. Consider yourself warned; this one may not be entirely appropriate for younger audiences.

Unfortunately, Raimi is still forced to work within the confines of the MCU formula, which often feels jarringly at odds with his more macabre elements. The flourishes of horror, practical effects, occasionally quirky camerawork from cinematographer John Mathieson, truly bizarre moments (you'll never look at music notes the same again), and a spritely score from Danny Elfman rarely transition seamlessly with the more traditional Marvel elements that Raimi can't escape. It's a pipedream that was never going to happen, but if Raimi was given carte blanche to make his own Doctor Strange film, you'd have to assume the result would be something wildly different.

In his sixth outing as the titular doctor, Cumberbatch hasn't lost any of Strange's snarky edge or his effortless charm and charisma. Waldron offers Cumberbatch much more to play with than in the predecessor as we explore Strange's quest for his true purpose in life. When he's not trying to stitch the multiverse back together, Strange takes on the position of mentor to the lost soul that is America.

The sparklingly bright Gomez is a delightful addition to the MCU, even if her character arc and introduction both feel a little rushed. Much like every member of this franchise, she's carrying the weight of trauma that fuels her quest to find a place in the universe that suggests a meatier part in future chapters.

Unsurprisingly, Olsen can't help but completely walk away with this film. After finally being given her moment to shine in WandaVision, Olsen continues to perfectly capture Wanda's crippling grief that's now driven her to the dark side. Olsen commands every single scene with a stunning performance that's equal parts menacing and heartbreaking.

Wanda desires the happiness she believes she's entitled to and she will do anything she can to attain it. She may be cast as this film's true villain, but her motivation is entirely empathetic as Olsen digs into the depth of a complex woman consumed by pain. You can't take your eyes off Olsen, and Raimi knows it. This is as much Wanda's story as it is Strange's and everything is genuinely elevated by what Olsen delivers.

At the end of the day, Doctor Strange in the Multiverse of Madness somehow both takes incredible risks and still plays it safe. It's why the end result feels a touch muddled and unsure of itself. Raimi is steadfast in his vision to create something completely unique for the MCU franchise yet still ultimately offers something familiar and rote. It's absurd and silly with some of the most outrageous moments this saga has ever seen. And, yet, it still manages to hit the same beats we've come to expect from a Marvel film. Regardless, its pure entertainment factor is off the charts.

Its unadulterated boldness has to be applauded. Cumberbatch and Olsen rise above the madness to deliver captivating performances that rightly leave you yearning for more. There's plenty here that will shock fans to their core, even if other elements feel much too conventional. Raimi certainly gives this neverending franchise a big (and overdue) shake-up. Just maybe not quite the groundbreaking riot you may be expecting. Hype is always a killer and while this bombastic thrill ride may not reach the heights of the MCU's best, it's nowhere near the worst.





Distributor: Disney
Cast: Benedict Cumberbatch, Elizabeth Olsen, Chiwetel Ejiofor, Benedict Wong, Xochitl Gomez, Rachel McAdams
Director: Sam Raimi
Producer: Kevin Feige
Screenplay: Michael Waldron
Cinematography: John Mathieson
Production Design: Charles Wood
Costume Design: Graham Churchyard
Music: Danny Elfman
Editors: Bob Murawski, Tia Nolan
Running Time: 126 minutes
Release Date: 5th May 2022 (Australia)