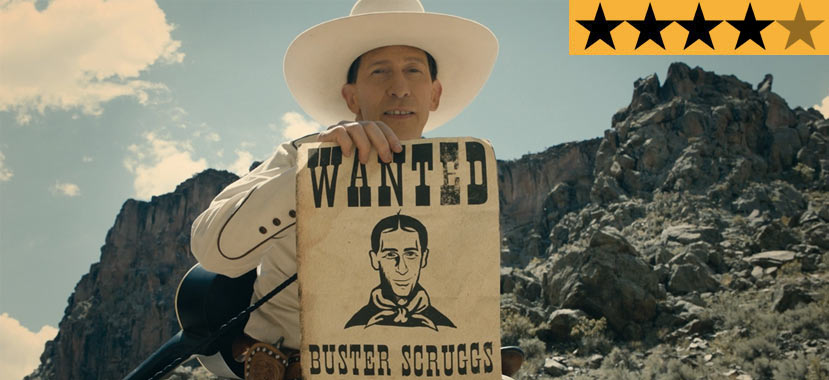 19 Oct

ADELAIDE FILM FESTIVAL REVIEW – 'The Ballad of Buster Scruggs'

Once a mainstay of Hollywood, the Western genre seemingly faded away in the late 1960s. In the last few decades, several filmmakers have made concerted efforts to keep the tales of the wild, wild west alive, in both traditional and non-traditional ways. Working very much in the former, The Ballad of Buster Scruggs, the latest from writer/director duo Joel and Ethan Coen, is a six-part anthology with all the black humour, brutal violence, and gorgeous imagery we've come to expect from the Coen Brothers.

Cinema purists may ponder if this can truly be considered a theatrical film, given it was initially created as an episodic Netflix television series before the Coens changed that plan and smooshed the six episodes together into one compendium. Much like a television program, some episodes of The Ballad of Buster Scruggs soar far higher than others, leaving us with a decidedly unbalanced piece of cinema. But, thankfully, the ones that do work far outweigh those that don't.

Literally bringing a dusty, vintage storybook and its "colour plates" (a beautifully illustrated moment from each tale) to life, The Ballad of Buster Scruggs depicts six separate and unconnected short stories, each featuring wildly different narratives with the common goal of capturing the harshness of life and death in the Old West. The first tale, which shares its name with the film's title, follows the titular Buster Scruggs (Tim Blake Nelson, as delightful as always), a sharpshooting cowboy, decked out in a flashy white outfit, complemented by his smooth singing voice (showcased in a handful of short but lively musical numbers) and daring charm. But don't let his polite manners and cheeky smile fool ya. He's as deadly as anyone else in the West. But when you're the top six-shooter in town, someone's always wanting to take you down.

Potentially the most divisive chapter in this anthology, you'll either completely adore this entry or absolutely despise it, especially when the musical moments spring from literally nowhere. Nelson consistently breaks the fourth wall, directly addressing the audience throughout his brief performance, and his "aw, shucks" demeanour will either have you rooting for the cowboy to mow down everyone who stands in his way or counting down the minutes until this bigmouth gets his comeuppance. Regardless of your feelings towards Scruggs, the segment is typical Coen Brothers absurd and droll cinema.

Next up is Near Algodones, which is, by far, the low point of this film. Thankfully, it's the shortest episode of the six. This one follows a would-be bank robber (James Franco) and his run-in with an eccentric bank teller (Stephen Root), leading him into a series of near-death encounters with the law, the locals, and a gang of Native Americans. Somewhat farcical in tone (particularly a great visual gag involving a noose, a tree, and the bank robber's horse), this segment can't seem to decide what it's trying to say. And, while rooted in some historical basis of fact, the less said of the portrayal of Native Americans as vicious savages, the better. Although, the sight of a giddy, gun-shooting Root covered in pots and pans (yes, you read that right) is really something to see.

Changing tone completely, Meal Ticket is an unassuming and austere tale with an ending that's classic Coen Brothers melancholy. A two-bit travelling showman (Liam Neeson) roams the West with his one-man freak show, featuring the Artist (Henry Melling), a softly-spoken actor with no arms or legs. From his tiny stage, the performer passionately recites passages from great poets and writers. But as the crowds start to dwindle, the showman begins to reconsider his meal ticket. This episode stretches on a little longer than necessary, particularly in the exhaustingly repetitive montage of the Artist's recitals. However, and without spoiling too much, it leads to a shocking conclusion you slightly see coming, but dare not wish to fruition.

Reaching the halfway point of our picture, All Gold Canyon is essentially a one-person act, featuring Tom Waits as a batty old mining prospector, searching for his "pocket" of gold in the untouched (and untapped) wilderness. The harsh, dusty plains of the West take a back seat here. This segment is filmed in a lush, green valley with a crystal clear river running through it, gifting us some gorgeous imagery and jarring juxtaposition to the film's other barron settings. But the visuals are not just what makes this segment one of the best. Waits' is a delight as the eccentric miner with a penchant for talking to himself. He carries this vignette all on his own, somehow making it more engaging than segments featuring dozens of actors. If any character deserves their own spinoff, it's this old coot. When his moment ends, you'll likely wish to keep following him.

Arriving at what is perhaps the "main feature" of this anthology, The Gal Who Got Rattled feels like the one episode which could have been its own full-length film. Alice Longabaugh (Zoe Kazan) is a sweet, lonely young woman who is taking the long and dangerous wagon train trek to Oregon to be married to her brother's business associate. Along the way, she meets Billy Knapp (Bill Heck), one of the group's guides and pseudo protectors, and the pair begin a polite courtship. You don't expect romance from a Coen Brothers film, but this episode evolves into a beautifully sweet tale and the pair's love story is really quite touching. Just don't get too comfortable. There's a whole swag of twists and shocks on the horizon, especially when the wagon trains enter "Indian country."

Finally, we arrive at our closing chapter with The Mortal Romains, a monologue-laden dream for fans of hefty dialogue. Personally, this was my favourite of the six, but you'll undoubtedly find your own. The setting is the carriage of a stagecoach. Our players are five individuals travelling together in this very carriage. There's a snooty Victorian aristocrat (Tyne Daly), a Frenchman devoid of tact (Saul Rubinek), a grizzly animal trapper who doesn't know when to shut up (Chelcie Ross), and two smarmy bounty hunters (Brendan Gleeson and Jonjo O'Neill). As the journey unfolds, each player has something to reveal, gifting each actor with an opportunity to shine. Ross is an absolute scream, as his monologue continues and continues, with no end in sight. But there's a sinister tone to this piece, one that I dare not spoil. It's here the Coen Brothers really show their deft talents, as they drop some of that sardonic humour and wit they're so known for. It's the darkest piece of this puzzle, but it's one so deliciously devilish, it's impossible to resist.

While the ultimate success of each episode is somewhat hit-and-miss, what does stand out is the impressive look and feel to the entirety of The Ballad of Buster Scruggs. Bruno Delbonnel's cinematography is gorgeous to behold, as he captures both the majestic beauty and the harsh reality of each location. The meticulous recreation of the wild West in Jess Gonchor's production design is rather glorious, as are Mary Zophres' costume designs. A classic Western genre trope is its score, and Carter Burwell has created a resonating score that's pitch-perfect for this piece. For fans of this style of cinema, you won't be disappointed with how the Coen Brothers and their collaborators have once again brought this genre back to life.

As a film critic, it's rather difficult to review a piece of cinema made up of fractured episodes initially meant as a television series. There's nothing really connecting these six episodes, bar their familiar time and location setting. Some episodes work far greater than others. Some are almost perfect, making this experience entirely worthwhile. It's another blissful return to the Western genre from the Coen Brothers. It's one that may not reach the lofty heights of their other exploits, but it's an enjoyable journey regardless.





Distributor: Netflix
Cast: Tyne Daly, James Franco, Brendan Gleeson, Bill Heck, Grainger Hines, Zoe Kazan, Harry Melling, Liam Neeson, Tim Blake Nelson, Jonjo O'Neill, Chelcie Ross, Saul Rubinek, Tom Waits, Clancy Brown, Jefferson Mays, Stephen Root, Willie Watson
Director: Joel Coen, Ethan Coen
Screenplay: Joel Coen, Ethan Coen
Producers: Megan Ellison, Sue Neagle, Bob Graf
Cinematography: Bruno Delbonnel
Production Design: Jess Gonchor
Music: Carter Burwell
Editor: Roderick James
Running Time: 132 minutes
Release Date: 16th November 2018 (Australia)