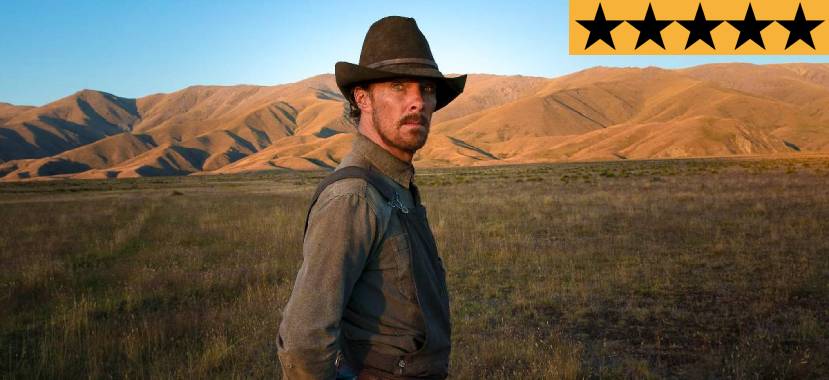 08 Nov

SYDNEY FILM FESTIVAL REVIEW – 'The Power of the Dog' is a meticulously crafted work of art

In the 28 years since Jane Campion became only the second female filmmaker in history to receive an Academy Award nomination for Best Director, the writer-director has made just four films. Much like her careful filmmaking and storytelling style, Campion is a director who prefers to take her time. The results are always worth the wait. With her latest effort, Campion may have delivered her greatest work to date and one of the very best films of the year.

A slow-burn character study that's as captivating as it is challenging, The Power of the Dog is a meticulously crafted work of art. Visually stunning and narratively brilliant, it's a contemplative deconstruction of toxic masculinity that declares Campion is a mighty force to be reckoned with this awards season. Elevated by an impeccable ensemble and cemented by an unflinching screenplay, it's a mesmerising work of the highest order.

Adapted from Thomas Savage's 1967 novel of the same name, The Power of the Dog lays its scene in 1925 in the expansive plains of Montana. The film follows ranch owner George Burbank (Jesse Plemons), a mild-mannered, slightly-pudgy cowboy who doesn't quite fit the same mould of his brutish brother, Phil (Benedict Cumberbatch). While gentle George handles the administration side of the business, rugged Phil oversees the physical operations of the ranch through lessons imparted to him by his idolised late mentor Bronco Henry.

Life for both Burbank brothers is upended when George marries Rose (Kirsten Dunst), the lonely owner of a local restaurant she runs with her awkward teenage son, Peter (Kodi Smith-McPhee). When the pair move to the ranch, Phil takes great pleasure in pushing Rose's buttons to make her life as miserable as possible. While Phil had previously viciously bullied Peter, he surprisingly takes the youngster under his wing for reasons that will slowly unfurl over time.

There will be those who categorise The Power of the Dog as a revisionist neo-Western, and, in many ways, it is. Campion leaves heavily into the classic genre with a visual aesthetic that feels inherently traditional. While production took place in New Zealand, you'd never know you weren't witnessing 1920s Montana. The sweeping grandeur of the landscapes and mountain ranges create a stunning backdrop for Campion to stage her narrative where these open, expansive spaces cleverly juxtapose the inescapable claustrophobia felt by these characters.

Campion carefully plots her pacing to reveal the multi-layered inner workings of her screenplay that's like a silently ticking timebomb waiting to explode. It's deliberately slow-moving and demands patience from its viewer, but that's part of what makes this film so utterly intoxicating. This is a measured filmmaker in total and tight control of everything she's creating where all aspects have purpose and deeper meaning, especially her characters whose ambiguous motivations could provide fodder for countless theses.

It's Campion's sharp yet subtle exploration of masculinity and the myth of the cowboy where The Power of the Dog truly deviates itself from your average Western. Phil is an unpredictable powderkeg of a character who seems like he could erupt at any moment. At first glance, he's as stereotypical as toxic cowboys come. Yet beneath all his blustering bravado and callous behaviour is an insecure, damaged soul who forms an unlikely connection with someone he once took joy in victimising. He's a walking contradiction that Campion takes deft care to deconstruct but still allow audiences to ultimately draw their own conclusions.

This is just one element that makes the film such a fascinating journey. The tension Campion builds is wonderfully palpable where you're never quite sure where the narrative is taking us, but you're always comfortably confident Campion knows precisely what she's doing. The screenplay offers such a profound analysis of its characters where their deep layers are gradually revealed at just the precise moment. It's a psychological familial drama where mind games are always being played, but just who is making the rules and who will ultimately win is a mystery you will delight in attempting to solve.

At the heart of everything is Campion's sublime ensemble cast who work in perfect harmony for more than two hours. In a performance that may be the best he's ever delivered (which is saying something), Cumberbatch is simply breathtaking. Phil is malicious, vindictive, and unrepentant, but it's painfully obvious it's a coat of arms he's developed to survive in his harsh environment and combat his emotional repression. It takes an actor like Cumberbatch to craft such a vile villainous character with the nuance needed to capture everything hiding under the surface. Watching him peel back Phil's layers one at a time is an extraordinary experience.

George is the far less showy role, but Plemons shows his skill for still making a heavy impact with calmer, understated performances. In a way, George is the glue that foolishly attempts to hold everything together, but that adhesion is quickly falling apart. A terrific Dunst is captivating and heartbreaking as a woman who slowly begins to succumb to the toxicity permeating around her. Dunst is so careful and methodical in every move and whispered word that effortlessly captures Rose's spirit that's slowly being crushed. The vulnerability she constantly conveys with her eyes is spellbinding in a performance that will surely net the actor her first (and overdue) Oscar nomination this year.

But the real surprise package is Smit-McPhee who consistently threatens to steal the entire film with his enthralling performance as the enigmatic Peter. A delicate soul whose sensitivity is initially mocked and ridiculed by the precarious Phil, Peter is a beguiling character you cannot take your eyes off. There's unexpected confidence in Peter that Phil cannot stand because it's precisely who he wishes he could be. He's threatened by this newcomer in his life, which is entirely why he has to get close to him. Smit-McPhee is a revelation with an inviting presence that continually draws you in. And the young actor more than holds his own against Cumberbatch, which is a tremendous feat in itself.

The film shines on a technical level that will also surely be amongst consideration come awards season. Ari Wegner's gorgeous cinematography captures the remote, dusty landscapes and blue skies that stretch for an eternity, but it's her choice of intimate, angled shots of the characters where her work really sings. The stellar period creations of Grant Major's production design and Kirsty Cameron's costuming are perfectly crafted. And Jonny Greenwood's score is masterful, filled with slow piano music and unsettling disharmonious keys that only adds to the rising sense of tension and claustrophobia.

What Campion has delivered with The Power of the Dog is nothing short of cinematic perfection. It's atmospheric and disturbing with layers of subtext you'll long to explore with repeat viewings. It's the kind of richly detailed piece of cinema that only comes from a filmmaker at the top of her craft. Its visuals are only complimented by its storytelling with both working in total unison. And its ensemble cast is a true thing of beauty. A compelling, bewitching triumph, this is a film not to be missed.





Distributor: Transmission/Netflix
Cast: Benedict Cumberbatch, Kirsten Dunst, Jesse Plemons, Kodi Smit-McPhee, Thomasin McKenzie, Genevieve Lemon, Peter Carroll, Alison Bruce, Keith Carradine, Frances Conroy
Director: Jane Campion
Producers: Jane Campion, Tanya Seghatchian, Emile Sherman, Iain Canning, Roger Frappier
Screenplay: Jane Campion
Cinematography: Ari Wegner
Production Design: Grant Major
Costume Design: Kirsty Cameron
Music: Jonny Greenwood
Editor: Peter Sciberras
Running Time: 126 minutes
Release Date: 11th November 2021 (Australia), 1st December 2021 (Netflix)